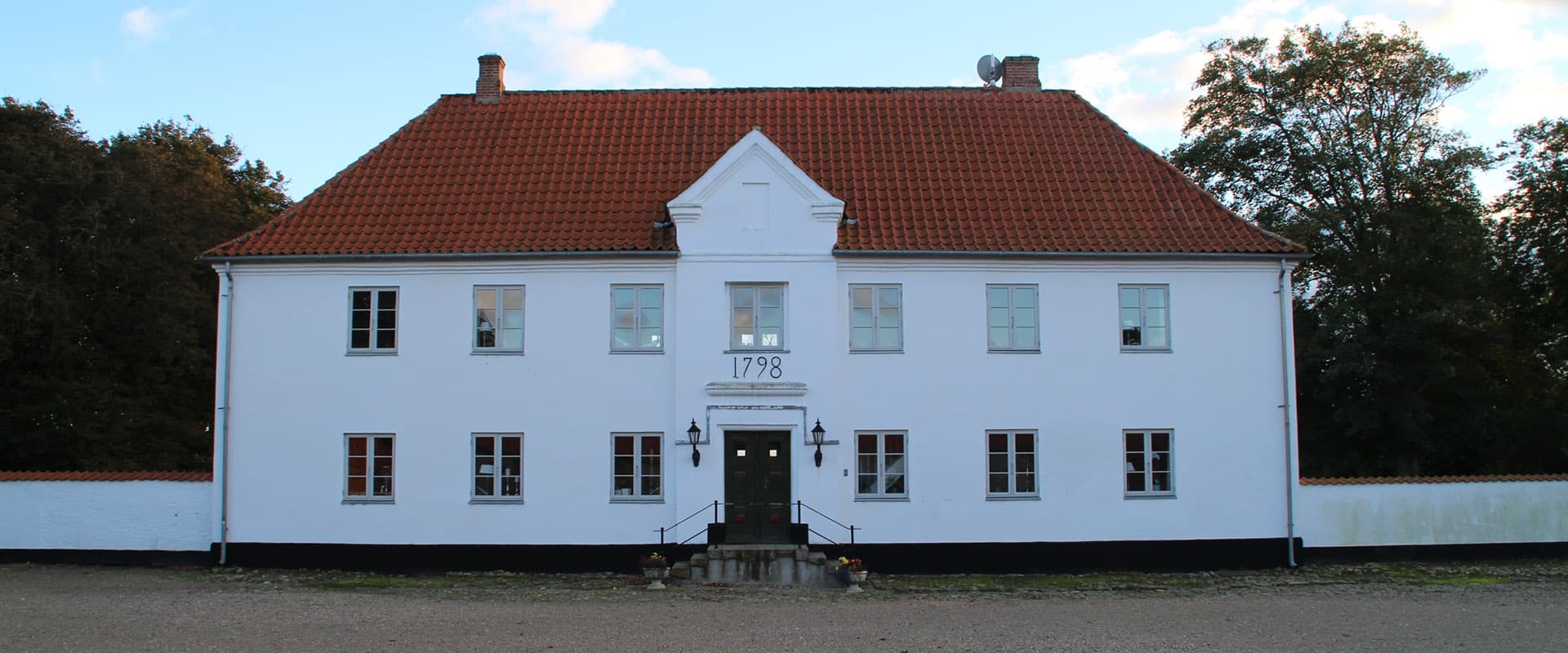 Manor House
Living Rooms
On the ground floor you find a cozy living room with a marvelous view and access to the garden. There is also a spacious dining room with a large table for your family and friends. All in all it offers seats for 14 persons. There is more space to sit on within the next door kitchen. The living rooms are very bright and nicely done up with furnitures of the friendly scandinavian style.
On the upper floor there is a stately salon with a comfortable seating area, a TV, DVD-Player and a pool table. All rooms are equipped with the interior of the well-known danish designer, Lene Bjerre.
---
Kitchen
Enjoy the beautiful view of the garden and the fjord from the kitchen. The morning sun invites you to have a lovely cup of coffee or tea here in a relaxed atmosphere. Enjoy your breakfast with this fantastic view of the water or use this quiet and wonderful place to relaxe at any other time of the day.
The kitchen is furnished in the style of a country house and you will find all common kitchen appliances. In addition, there is another, cozy sitting area from which you can watch what is going on in the kitchen.
---
Bedrooms
In the manor house there are 4 double rooms and 2 tripple rooms. Two of the double rooms have got an access to the triple room, which is excellent for families. You find another double room within the annex. This room is kept nice and simple but it doesn´t have a bathroom. A total of 16 people can be accommodated. All rooms are equipped with the interior of the well-known danish designer, Lene Bjerre.
---
Bathrooms
You find 4 bathrooms within the manor house. There is one on the ground floor and three on the upper floor. The bathrooms are equipped with a shower, toilet, a washing stand and cupboards. With the exception of one bathroom, all bathrooms have windows so that you also have a beautiful view of the landscape surrounding Strandet Hovedgaard.

Book your unforgettable vacation now
Floor Plan
– Ground Floor:
One double room with an adjoining triple room (connecting room, max. 5 people)
One bathroom
Access to the terrace
Fold-out cot available
Living room and dining room
Kitchen
– Upper Floor – East Wing:
One double room with an adjoining triple room (connecting room, max. 5 people)
Two bathrooms
– Upper Floor – West Wing:
Two double rooms with view of the fjord
One bathroom
Stately salon
Facilities on the estate
Billiards / pool table
Bob Game board game / Carrom for outdoors
Garden games
Football goals in the garden
Swing frame
Barbecue & fire place with pavilion
Jetty on the estate's own stream with access to the fjord